NuCalm® For Dental Treatments
Keystone Dental Center can now make your dental visit easier and less stressful than ever before with leading-edge NuCalm® anti-anxiety technology for your dental treatments!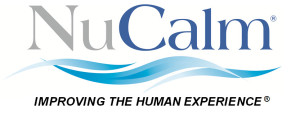 We know our patients are looking for greater comfort and faster dental appointments, which is why we are proud to introduce NuCalm®, a revolutionary all-­-natural technology. Our patients love the comfort of the NuCalm dental experience.
To date over 300,000 dental patients across the United States have experienced a relaxing dental appointment with NuCalm®. 98% of patients who have experienced NuCalm® state they would recommend it to their friends and family. Deep relaxation is achieved through four simple steps. NuCalm® is administered by our team at the beginning of your appointment and most patients experience deep relaxation within 10 to 15 minutes.
While listening to soothing music, you will relax comfortably in the chair for the entire appointment. Once your dental appointment is completed, you can leave our office immediately with no side effects, no impairments, and no recovery time. News is spreading quickly about NuCalm®. It has been featured on ABC News, CBS News, NBC News, Fox News, and WGN Chicago.
How does NuCalm® work?
Step 1: First you apply NuCalm topical cream or chew dietary supplements that are designed to relax you by counteracting adrenaline. The proprietary formula is only available in the NuCalm system and includes structured, nutrient-sourced building blocks that rapidly create a natural relaxation response.
Step 2: Patches are applied behind each ear for microcurrent stimulation. Research shows this helps to facilitate relaxation.
Step 3: Wear headphones and listen to soothing music. Layered in the music is proprietary neuroacoustic software designed to facilitate deep relaxation.
Step 4: Wear NuCalm light-­-blocking eye mask to remove visual stimuli and maintain relaxation.
If you find yourself anxious and worried about your upcoming dental appointment, Dr. Lamb and the staff at Keystone Dental Center Have you covered with the NuCalm anti-anxiety system.
Cost
To use this revolutionary product during your dental treatment, all you have to do is ask! The charge to use NuCalm during your dental treatment is only $42. If it is your first time using NuCalm with treatment, be sure to ask for the first-time discount!
Why we love NuCalm®
We are always looking for ways to improve your dental visit. NuCalm® provides a uniquely positive experience, reduces your stress, and lets you leave feeling refreshed. NuCalm® also allows us to focus exclusively on doing our best dentistry. Our patients and the team love NuCalm® and we are proud to provide this exceptional technology to you. Ask us today how you can experience NuCalm® during your next visit. With NuCalm®, everybody wins!